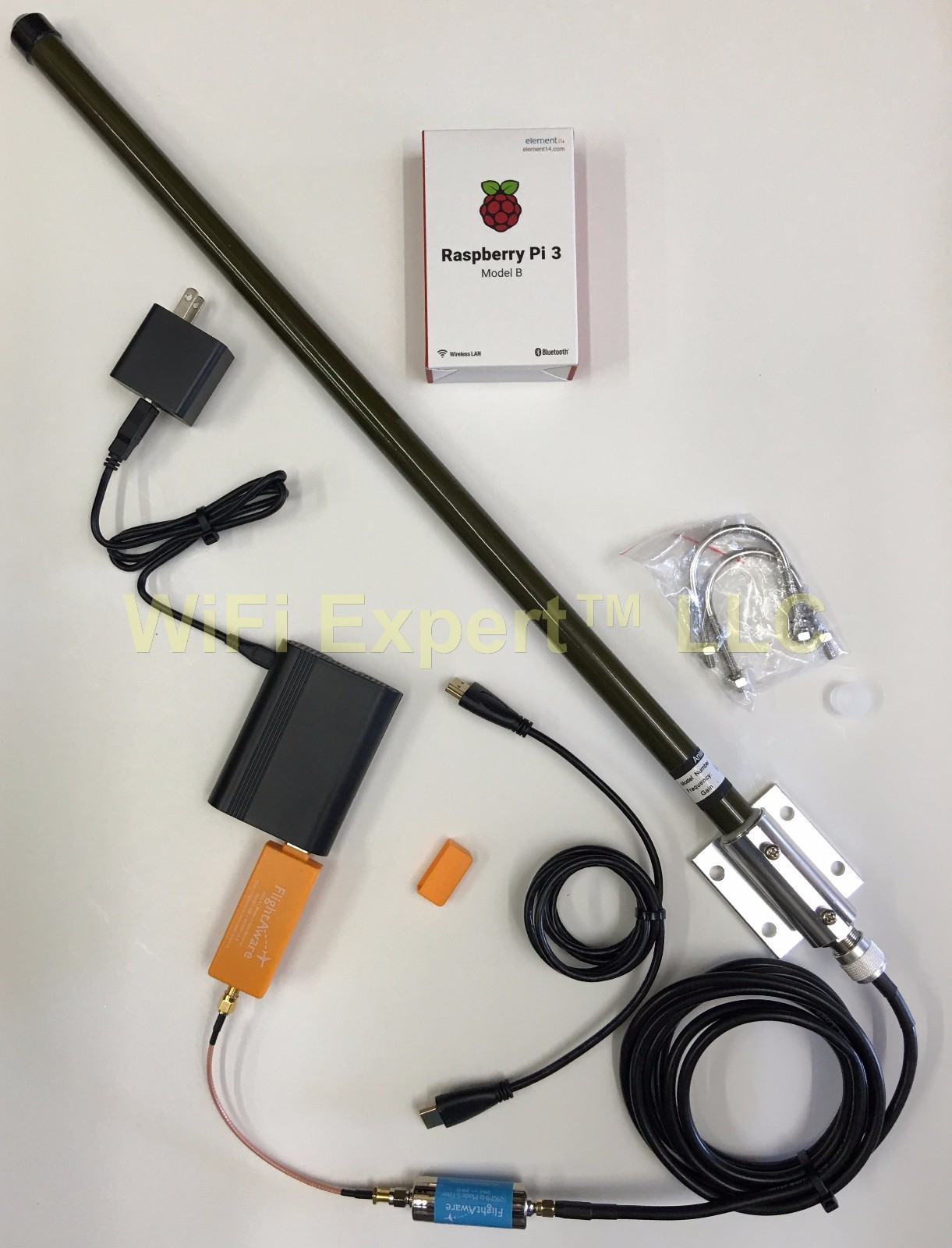 This is a TURN KEY 'Plug and Play' system!
Information on this kit can be found here: http://flightaware.com/adsb/piaware/
COMPLETE FlightAware System with best components includes:
Raspberry PI 3 Model B + 1090MHz ADS-B Antenna + Cable + USB PRO STICK + Filter for Mode S and ADS-B data for FlightAware.
Click here to buy this system now!
CLICK HERE to see all FlightAware products that we offer!

Auction Includes: 1 (One) 

Raspberry 3 Model B +

ADS-B 1090MHz PRO USB STICK + Band-pass SMA Filter with pigtail plus 5dBi Antenna + Cable for FlightAware.

This is a perfect House Station kit for your FlighAware system.

Raspberry 3 Model B Comes with pre loaded micoSD card with PiAware, all you have to do is Claim your device and you are ready (must register an account with FlightAware, internet connection is required). 

You can claim your device using provided Cat5 cable or you can enable WiFi (keyboard and mouse will be required – NOT INCLUDED).

SMA (female to male) 1090MHz Mode S filter. Designed to reduce interference and significantly improve valid mesage rate of ADS-B/Mode S receivers. Passes range 980MHz – 1150MHz. Impedance is 50ohms and insertion loss is <2.5dB.
1 – Raspberry 3 Model B with pre loaded microSD card ready for use!

1 – 5dbi (26″ long) Antenna with cable.

1 – RFC240 Cable from 10-100 feet long (depends on your selection).

1 – PRO STICK USB Flight Aware Receiver 

20dB Integrated Amplifier which can increase your ADSB range 30-100% more compared to other dongles.

1 – 1090MHZ ADS-B / Mode S Filter

1 – SMA Female to SMA Male RG316 cable.

Passes range 980MHz – 1150MHz

Reduces RF noise, increasing number of ADS-B/Mode S messages

Ideal for RTL-SDR USB Dongle receivers like PiAware